Arizona's population continues to rise every year, and with good reason! Check out our list of the top reasons why moving to Arizona is well worth it.
1. Low Cost Of Living
The overall cost of living is less than the majority of the country, but the time to buy is now! Housing prices continue to go up across the valley, but individuals can still find great deals from Tucson all the way to Phoenix. If you are looking to rent rather than buy, the average rental costs are still around $1,000 for a two-bedroom apartment statewide. In addition to lower than average housing costs, gas is cheap, taxes are low and electricity bills are reasonable.
2. Sun
Arizona receives the most sunny days of any state in the U.S. Yes, that even includes the sunshine state of Florida. This information actually comes directly from the United States National Oceanic & Atmospheric Administration. So, if you are looking for the most sun and best weather possible, you can't do any better than Arizona!
3. Phoenix Continues To Grow
Phoenix is currently the 5th-most populous city in the country, with 1.6 million+ residents and climbing. More and more people continue to move to Phoenix for the 300 days of sun, beautiful landscapes and tremendous job opportunities. Of course, everyone knows about the variety of outdoor activities in Phoenix, but this city also boasts a unique food culture, light traffic and two sports teams downtown.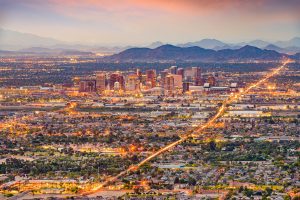 4. Thriving Art Scenes
The larger cities, such as Phoenix and Tucson, are well known for their art scenes. Yet, other small cities across the valley are making their names known in the art communities, as well. Small towns Sedona, Bisbee and Jerome are becoming tourist hotspots for their arts, music and theatre offerings.
5. Booming Job Market
Behind only Oregon and Utah, Arizona has become one of the best places to find a job in the country. Tourism-related jobs continue to multiply thanks to the unique desert landscapes that draw visitors every year. Currently, the top employment sectors are trade, transportation, government and education.
6. Sporting Options
Sports fans will be in paradise when they decide to call Arizona home. For starters, there are world-class golf courses all over the valley. Not a golfer, just more of a fan? You're still in luck as the Waste Management Phoenix Open is held annually in Scottsdale. Arizona hosts teams from the four major sports leagues, as well numerous MLB clubs that undergo spring training in several valley cities.
7. Retirement Paradise
Arizona is a great state to retire in for several reasons. The hot and dry climate is actually the recommended setting for anyone suffering from respiratory illness like asthma, bronchitis, etc. The plethora of outdoor activities, in addition to tremendous shopping and dining options, make Arizona a retirement destination.
8. Scenery
The Grand Canyon, Horseshoe Bend and Antelope Canyon, just to name a few! Arizona is ripe with unforgettable scenic views. Check out the small town of Sedona, where the beauty of the red rocks will leave you in awe.

Assisted Living At Desert Winds Retirement In Peoria, Arizona 
If you are searching for a memory care facility in Peoria, Arizona, Desert Winds Retirement Community is the facility for you! Travel over to our memory care page to see pictures find out more about our facility, amenities, floor plans and more.
More Articles About Senior Living