Help With Choosing Assisted Living Communities In Peoria,  AZ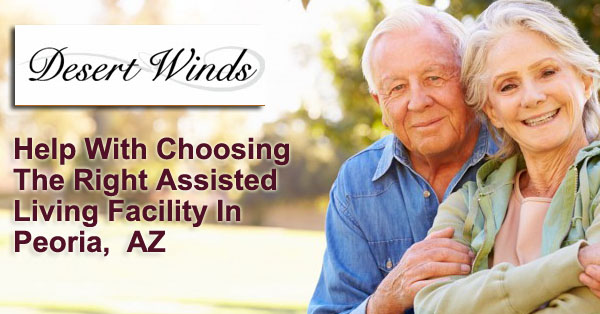 Finding the best assisted living facility for mom or dad can be one of the toughest decisions to make. We put together the top 10 things to look for when touring assisted living communities in Mesa Arizona to help guide you into making a better decision. While on your visits to each of the facilities, keep in mind the quality of care they are performing for their residents and determine if that type of care would be adequate for your loved one. Making the decision of when and where to move totally resides with the both of you.
How Clean Is The Facility
Does the facility look and smell clean? Make sure and check everywhere to see how thorough they are. Check baseboards, windows, corners and furnishings for cleanliness. Request the full details on maintenance regiments, cleaning schedules and laundry procedures. Not all will be included in the rent so make sure and get the full details on additional cleaning costs as well.
Smell around the property for odor but don't just think the facility is dirty just because one room might smell a little funky. That could be a single incident that just recently happened. However if you notice a foul smell lurking throughout the property, that's a good sign that there might be underlying cleanliness issues. If you do smell something out of the ordinary, ask your tour guide to explain what may be causing the problem.
Participate In The Facilities Activities For A Day
If you can, try to schedule your tour around the same time as an event or activity the community will be participating in. If you don't want to participle you can at least observe what's going on and get an idea of how many others attend events, how the staff interacts with the residents and get an idea of the kind of activities your loved one will eventually be participating in. Also, assisted living facilities usually have activity calendars that anyone can view online that list the upcoming events. Check out each calendar to make sure the type of event our outings line up with what your loved one is interested in. Furthermore if you are religious, make sure and ask about religious practices of the facility.
How Friendly Are The Staff
I'm sure you have seen the 1996 movie "Happy Gilmore", a movie about a hockey player turned golfer who has a grandmother going into retirement because she can no longer afford her house. The staff member Hal of the retirement facility played by Ben Stiller seems to be a super nice guy who treats the residents (while in company of their loved ones) so well, but once the family members leave, its the complete opposite, he is demanding and treats the residents really bad.
So, our point is, don't just trust the friendliness of the staff when they are in front of you, walk around on your own and view how the staff interacts with the other residents. Are they friendly? Are they rude or short with the residents? How quickly do they respond? Do they make eye contact? How many staff members are on call at any given time? Make sure and meet the managers of the property. They will be able to give you better insight in their policies and all the specifics of staff numbers compared to residents.
Tour The Outside Of The Property
It's very likely that your loved one will be spending an adequate amount of time outdoors if they are living at an assisted living facility in Peoria, AZ. Peoria, Arizona residents enjoy more sunnier days than 95% of the rest of the United States. Temperatures don't get too low, even during the winter months, the lowest temperature only gets down to about 35 degrees. Also, does the property feel safe? Is it a gated community? Do all areas of the outdoors seem to be used by the residents? Do the staff members use these areas as well?
Try The Food
One of the most important aspect of an assisted living facility is the dining room experience and the food. When you are touring facilities make sure and find out what their "three meals a day" includes. Is there a menu? Also, make sure an inquire about dining procedures, options and hours available to make sure that lines up with your loved ones natural schedule. Furthermore, make sure and try the food! This is a great way to get to taste the type of food you or your loved one will be consuming. Its also an opportunity to meet other residents. Make sure you find out the procedures for residents who are unable to make their way to the dining room. Even if it is only a one time occasion where the resident is too tired or recovering from some kind of illness.
Safety & Security
How safe will your loved one be at this facility? What kind of special needs do they have for grab bars, walk-in tubs, etc? If there is an emergency, who do the resident contact? Find out as much as you can about safety for the residents. Will there be registered nurses on site at all times, and if so what are the staffing patters? How are medication needs handled? Also, don't forget to ask about any specific medical needs or other special needs that are required for you or your loved one.
Personal Attention & Cleanliness Of Residents
As you tour the property, make sure and ask a ton of questions about the personal care of your loved one. Do you or your loved one have special bathing preferences? Also, it's a good idea to observe the residents who are currently living at the facility. Do they have clean clothes? Is their hair cut? Beard trimmed? Does the staff smile, show respect and treat the residents with dignity?
Talk To The Residents And Ask Questions
One of the first things you or your loved one should do is to talk to current residents of the assisted living facility. Ask them how the staff treats the residents? Ask them if they feel comfortable there. Do they like it? What's their favorite part about this facility? Have they ever been to any other facilities? What's the thing they hate most about the facility? Sometimes it takes asking these tough questions but it helps you better understand what kind of community you are getting involved with.  Also, you can find tons of reviews online from residents and their families that should help you get a deeper look inside the facility.
Move Out Policies
No one likes moving over and over again and seniors are definitely in the same boat. Make sure and ask what their move out policies are. What would cause a resident to be kicked out of a facility? Does the facility give any type of warnings or notices before asking a resident to leave the facility. Also, if you or your loved one decide to move out of the facility, what kind of notice needs to be given? Most require a 30-day move out notice before leaving the facility.
Go With You Gut Instinct
You will hear some say, "it just feels right" or "I don't like the energy here", in either case, go with your gut instincts, they are usually right. Do you see you or your loved one living at this facility for years to come? Do you feel important? Is the staff friendly and easy to interact with? So, in conclusion, choose the assisted living facility that "feels right" and the rest will fall into place.
"Trust your instincts, and make judgments on what your heart tells you. The heart will not betray you."
― David Gemmell, Fall of Kings
Desert Winds Assisted Living Facility is located in Peoria, AZ and offers an abundance of activities, flexible amenity packages, several different lifestyles and many floor plans from which to choose. We are a community you will be proud to call home. Offering solutions for all Independent, Assisted Living & Memory Care Residents.