Assisted Living Checklist: What To Ask & What To Look For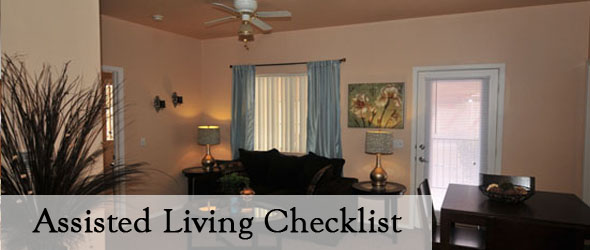 If you're looking for a checklist for assisted living that will help you in learning what you need to look for in an assisted living facility, read below!
When you are deciding on an assisted living facility, it's important that you ready yourself. There are subtle differences between every assisted living community, they are never similar.
To stay ahead of the game, you need to be organized, below is a small checklist you can print and take with you. Make sure you always compare the differences between different communities; ask questions which will help you in deciding which assisted living community is right for you or your loved one.
Assisted Living Checklist
Below is an assisted living checklist you can use when you go for a visit or call an assisted living facility. Simply print out our Assisted Living Checklist to insure you ask the more important questions like:
Are their staff members allowed to administer medications?
Do their staff members have experience with diagnosing a recipient's condition?
How much staff does your night shift have?
Are there nurses staffed 24 hours a day, 7 days a week?
What is their staff to resident ratio?
What types of apartments do you have available?
What type of experience and training does your staff have?
Are evaluations conducted prior to admission?
Can you describe your residents?
What is the monthly cost for your different types of apartments?
What is their policy on payment and billing?
How does their discharge process work?
Do they have a waiting list? If so, how long is the wait, and what is their policy?
Do the monthly fees cover all services? If not, what are the costs for  the extra services?
Assisted Living Tour Checklist
Below is an assisted living tour checklist to help you in knowing what to look for when taking a tour of the facility.
Pay close attention to the level of cleanliness.
Watch a community activity or event.
Do their staff members appear friendly and approachable?
Check out the outdoor area or courtyard, is it well kept and maintained?
Ask their security and staff questions, how do they respond?
Eat a meal with the residents, does it seem okay?
Speak with some residents. Do they like the facility?
Ask some questions about personal care.
Ask more about the move-in and move-out criteria.
Follow your gut.
About Desert Winds Assisted Living 
Desert Winds Retirement Community is a lot more than just your run of the mill retirement community. At Desert Winds we offer Assisted Living and Memory Care. We are located in Peoria, Arizona. Our Community offers several options to meet all of your needs. We are conveniently located by everything you may need, including wonderful restaurants, awesome shopping, tons of golf courses, cultural centers, sports complexes, and medical offices all within just a few miles.
Desert Winds boasts to be one of the best retirement locations in the West Valley. Our Retirement Community is built for today's seniors who are looking for a lifestyle that is not only stimulating and active, but also interesting and adjustable.
Find Out More About Assisted Living in Peoria, Arizona
To find out more about give Desert Winds Retirement Community a call today at 623-294-5590.