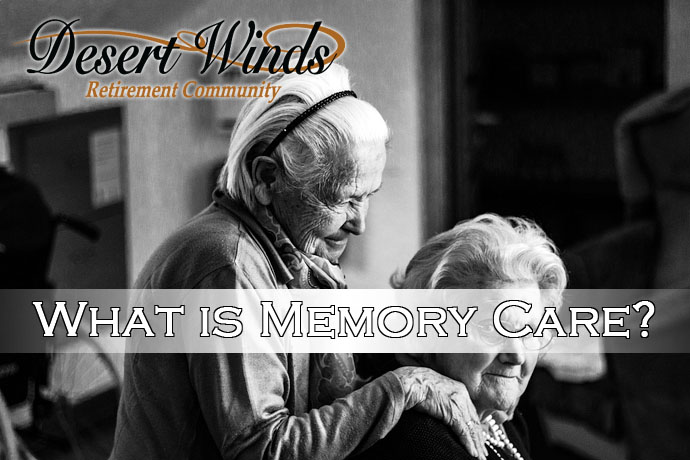 Have you been searching "what is memory care" for you to be able to understand the services that are offered by quality assisted living and retirement communities better? If you have, then this article will help you to understand the memory challenges that a person may face and just how memory care can improve and enrich their lives.
There are a lot of us that associate old age with being physically frail such as failing eyesight, wrinkling skin and arthritis of the joints. But as you age, your mind will actually start to show its age with a form of forgetfulness and it does not matter if you simply forgot where you put your glasses or the date of your anniversary. What happens to you when your mind starts to age in ways that disrupt your memories or personality?
This can be heartbreaking and it is normally a part of dementia or Alzheimer's. Even though it is very easy to get medication for arthritis and some stronger reading glasses, healing a mind that has dementia or Alzheimer's is not exactly possible which leaves your family with adapting to your condition.
If you want to know more about a memory care community after this article, or you are wanting to locate a community that is best for a loved one or for yourself, then contact us. Our team is dedicated to helping you find the right community, in a great location, with all the services that you need for the price you can afford, and we do this for free.
Basics of Memory Care
Dementia and Alzheimer's are very common types of memory loss conditions that will be included in memory care. This is a specialized care that will go through different services that will depend on the severity of the symptoms like requiring secure settings to prevent wandering.
Memory care will go well beyond what is normally offered in assisting living. Housekeeping, meal preparation, and laundry services are often provided but the level of assistance with daily activities are increased. There may be times when the daily activities are made for a person to allow them to reconnect with their hobbies or interests.
When it comes to being able to recognize care challenges for people who have dementia or Alzheimer's, these communities may just provide memory care or for continuing care communities which may provide a neighborhood just for memory care. Often times, it is these communities that will have certain design elements that lower stress for those who have dementia or Alzheimer's. It is these elements that include a circular neighborhood design that allows for safe wandering, memory boxes outside of their rooms, and natural lighting. 6 out of 10 people who have Alzheimer's will begin to wander around and the community will be designed to lower the risks of wandering and that may just be adding security alarms or doing safety and welfare checks.
The Demographics of Memory Care Communities
Even though there is plenty of data out there for the demographics of nursing homes as well as assisted living that is not the same thing as memory care communities. It was during 2014, that over 5.3 million Americans were diagnosed with Alzheimer's, 5 million of those people were ages 65 or older, and 3.2 of those people were women and 1.9 million of those people were men.
Community Life
When it comes to memory care, the amenities are not as glamorous like living within an assisted living or independent living community like having indoor swimming pools or ice cream parlors, but that is based on the design and not oversight. Research has stated that those who have dementia and Alzheimer's can get easily stressed and disoriented and it is these communities are meant to provide a relaxing setting.
Communities that will normally have secured courtyards will let residents walk in the garden and outside without a risk of wandering off. There are also gathering areas like libraries and TV lounges that are very common. To make the setting more intimate for residents, a memory care community will be designed with neighborhood settings that are equipped with apartments that are located near shared areas. Hallways will always be brightly colored and have many colors that will help residents find their way.
There are also apartments that are available in companion and private options and there are even 1-bedroom apartments. These apartment types will not have kitchenettes simply because all amenities are kept at a minimum to help reduce stress. In order to help a resident to find their way, most communities will have a memory box that is filled with mementos from their life.
The dining room will also be set up in a family way, so that the residents can gather together for meals. There are some memory care providers like Autumn Leaves that will have specially designed menus that will help with a lack of appetite from dementia and Alzheimer's. The dining room will have tropical fish tanks, which will help to increase appetites based on research and attention is made in order to create a contrast between the food colors and the plate to help the residents see the food much clearer.
There will even be activities that are made around the interests of the residents so that they are able to reconnect with their memories. They also have art classes, music, and games as well as exercise classes. There are even communities that will have escorted outings.
Offered Services
Memory care communities will also be equipped with staff that is able to handle life responsibilities such as laundry, meal prep, housekeeping and transportation. There is even assistance with daily activities as part of the standard services. There are also advanced healthcare services such as nursing that isn't offered unless the community is part of a larger facility.
Memory Care Costs
Because dementia and Alzheimer's patients will need higher care levels, the cost of memory care is going to be higher than the cost of assisted living communities.
The monthly rates for many communities will include services, utilities, and rent but phone and cable may be an extra charge. There is also a one-time community fee and there may even be assessment fee. Care costs will be based on the needs of the individual person. There are even some communities that will have different packages for care that will range from hands on assistance to minimal cueing which allows the family to select the level of care that is needed to meet the needs of the person. There are even other types of communities that provide care points to your loved one for the support level that they need and then charge a fixed amount for every care point and then a monthly fee.
Selecting a Memory Care Community and What Should Be Expected During the Assessment
Due to the high costs that come with memory care, you could go the less expensive route of assisted living for your loved one. The truth is that most assisted living communities will only have light memory care for those who are not prone to wandering off or for those who need an enhanced environment. For those who are needing constant attention or those who happen to wander off a lot, memory care communities will be best.
It could be hard to find a community within a rural area that will offer memory care. Out of senior living communities that have memory care services only 27% of those will have residents that have dementia or Alzheimer's or will only have a part of the community for dementia care. There are some companies that are out there that will just provide memory care while other communities will provide assisted living.
Larger communities will often be the only ones to do memory care, and you could be wary about signing your loved one up as they may not get hands on care or they could be overwhelmed by there being too many people. Most memory care communities have been made with neighborhood styling and will have common areas that are duplicated. This helps to give residents a homey atmosphere in a large setting.
Once you have picked the community that you and your loved one will like, you will begin the assessment process to see if they will fit into the community and if the community will be able to provide the care that is needed. Depending on the assessment policy, there may be a nurse that visits your home to assess your loved one. It is important that you be honest about how they act, and if they have issues with wandering off or issues with walking, so that they nurse can create a care plan for their needs.
Finding the Inspection Records for the Community
Unless the services that are offered like living assistance and medication management are provided by a third-party home care agency, most memory care communities will be inspected and then licensed by the state that it is in. These inspections are on record and you can get them from the state using an online or public records request. If the memory care community is part of a larger community, then the community may be under the name of the facility instead of the campus.
There are states that will require a community to make inspection results available or post them for public viewing. Viewing years of records can let you see if there is a pattern of violations or failing to follow procedures whether they be minor or life threatening.
Touring the Community
It is vital that you visit the community that you selected to see if your loved one is going to fit in. Touring the facility at different times is recommended that way you can view the residents and staff throughout the day instead of during activities and lunch. Touring can be a bit overwhelming to start with, so bring a checklist to make notes of various features. Trust your instincts. Ensure that you are using your senses to study things. If you notice that the building needs repairs or it smells like urine, then it is a red flag.
You want to make sure that the staff is certified and has memory care training because it will help to ensure that your family member is cared for by those who understand how Alzheimer's and dementia work. Ask if the facility provides specialized programs. Due to the unique care challenges that come with dementia and Alzheimer's, there are many communities that have unique programs that will guide just how the residents will be cared for to make sure that their lives are properly handled from being nurtured physically and spiritually.
Moving into the Community and Life Afterwards
Once you have selected a facility, you may dread the trauma of the transition. Even though there are steps that you can do to make it less traumatic. One of them is to establish and then stick with the story is going to be vital. This could be telling your loved one that their partner is off visiting friends. Having the room ready as well as decorated can help the transition and reduce the stress that is caused by moving. There are even some communities that will help to escort your loved one to the facility.
When they have moved in, they may not want to join the community life and will often ask to leave. It is in this situation that you have to be prepared to have a story about why they can't go home like the home is being repaired or it is being remodeled. Eventually they will settle down into a routine and accept that the community is their new home.
Memory Care At Desert Winds In Peoria, Arizona
We welcome you to come and tour our memory care facility in Peoria and find out why our residents love to live in our compassionate and welcoming communities. Go to our memory care page to see pictures, find out more about our facility, amenities, what is included in rent, and more.