What is an Assisted Living Facility?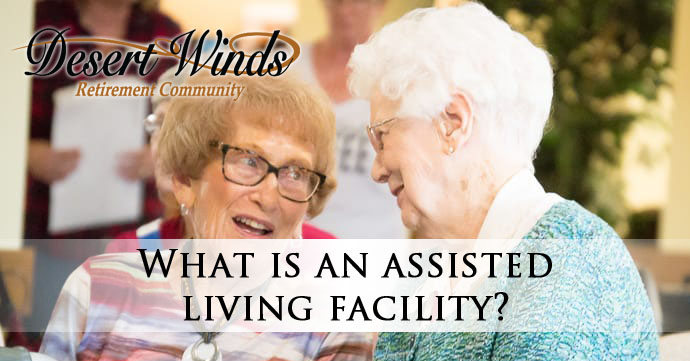 If you are searching for "what is an assisted living facility?" you may have questions for you or your loved ones. This post should point you in the right direction.
If you have started your search for an assisted living community for your loved one, then you might be unsure about what living in one means or what it is. Many people feel that assisted living is a retirement home or nursing home. However, senior living designers and professionals have worked more than 3 decades to revolutionize these communities to make them feel just like home.
Things That Aren't Known About Assisted Living
It has stated that there are over 6,000 assisted living communities that are professionally managed in the United States with over 480,000 apartments.
We talked to staff members who work at assisted living communities who have knowledge about these communities and they provided a lot of insight for those looking into assisted living.

1. Assisted Living Provides Various Care Levels
Because there isn't a nationwide definition for assisted living even though it is regulated within the United States. There are senior facilities that refer to themselves as assisted living communities who will offer various levels of care. They offer cost effective, residential approaches to delivering most of the same services that are available in nursing homes, or provided by personal care staff or home health services.
Not all assisted living communities are going to be the same. Some will provide only light care and then there are some that will provide care for those who are bedridden or who need help eating while staying in assisted living instead of a nursing home. It will really depend on the licensing for the community. Most states will have a tiered system for licenses where communities that have a higher degree licenses can provide higher care.

2. Each Community Will Be Unique
Besides care, the feel and look of assisted living will vary. Some communities will have a traditional, formal design while others have a more down to earth, homey feel. Some communities may have art deco décor while others have mid century modern designs. Communities will come in various shapes and sizes. They can be tower apartments located in a city center, intimate cottages, sprawling complexes located in the suburbs or communities that only have a small number of residents. There isn't a standard size, but most assisted living communities will be licensed to care for 20 people, but it may have hundreds of residents.
Each community will have a different personality. You can visit different communities that are just down the street from each other that will offer the same care options and services, they can look identical, but that they will feel very different. Just because your loved one liked one, does not mean that the next one you visit will not feel right to them.

3. Yes! Pets Are Accepted!
Senior communities will have different pet policies with certain weight limits and breed restrictions, so it is vital that you do your research. For instance, there are communities that will have a pet interview to determine if your pet is going to be right for the community, while others will allow pets that are under 20 pounds. Fish and birds are often welcome in many communities, and there are some communities that will have pet coordinators that will care for the pets. So, check with the communities of choice and ask about their pet policies.
Be sure to learn more about the health benefits of pets and why many communities have started to allow pets into care programs in other blogs like Pet Therapy. For more in-depth information about the benefits that a senior will get from a pet, read Companion and Healing Pets at Senior Living.

4. Some Of The Living Costs Are Much Lower Than You Think.
Assisted living is cheaper than nursing homes or home health care in the same areas. You can use the Care Cost calculator on A Place for Mom that can help you find the cost for assisted living for your state and area. You can even compare it to the cost of maintaining a home or even having full time home care aides.
Additionally, there are more seniors that purchase long term care insurance that can help to finance their long term care. Veterans and their spouses may have VA benefits that can offset the cost of assisted living. You can often find guides about financing senior care which will have details about making financial plans that make care more affordable. Those who are considered to be low income, they may need to use Medicaid to pay for senior care. To explore this option, you will need to contact your local Area Agency on Aging office, which you can find here: www.eldercare.gov.

5. This Care Type Is Not Like A Nursing Home.
Research has shown that most families believe that a nursing home is needed for their senior loved one when they only need assisted living. Having an assessment done by a medical professional or adviser is the best way to find out what type of care is needed, but for some general indicators that can be drawn between a nursing home and assisted living. For example:
Nursing home residents need fully staffed and skilled nursing attention daily, while assisted living doesn't need ongoing attention medically, and are more stable.

Nursing home residents normally have a semi-private or single room, while assisted living residents have a one bedroom or studio apartment.

Assisted living residents are mobile, while those who are in a nursing home are often bed ridden.

Assisted living residents are normally independent, but may need some help with daily living activities such as dressing and bathing, while nursing home residents need 24-hour assistance with daily living.
6. They Have Culturally Diverse Options
There is an increasing number of communities that have been designed to meet unique dietary, lingual, religious based, and cultural needs for the local population. On the west coast, there are a lot of Asian senior living communities like Fremont Hills located in Fremont, CA, and there are more on the way. There was recently ground broke for a new community that has been designed to meet the needs of the predominantly Chinese population in our area.
Jewish communities are also very popular, especially in Florida. Most communities will serve kosher food and there are some that have certified kitchens for kosher food, that will celebrate various types of Jewish holidays as well as have local Shabbat services. The Five Star Residence of Boca Raton is a Jewish community in the United States.
There are some communities that have multiple religious, dietary and cultural options. Beverly Hills Loving Care has an equal share of Persian and Jewish residents and have staff that speak both Yiddish and Farsi.
As the United States ages and diversifies, we have even seen a demand for niche communities which include LGBT oriented communities, golf-oriented communities, and some communities that have themes that no one has even thought of yet.

7. Assisted Living Also Offers Specialized Dementia Care.
The latest figures and facts have shown that more than 5 million Americans have dementia and Alzheimer's disease and need specialized dementia care treatments.
There are multiple assisted living communities that offer specialized memory care programs for Alzheimer's which have been designed to improve the quality of life and decrease agitation. Normally, residents who have early stage dementia or Alzheimer's are able to live with regular residents in the community, but whenever the condition starts to become advanced or worsens, the residents are then transitioned into the memory care unit of the community. Memory care is considered to be a form of specialized assisted living that is made secure to protect the residents and it is also equipped with a staff that has been specially trained to care for those who have dementia or Alzheimer's.

8. There Are Some Communities Who Will Place Couples Together.
If you are worried about the needs of one parent who needs more assistance than the other, but you are unsure how their needs will be met in a community. You will need to contact the communities with your questions about their needs early.
There are many communities that will work to place couples together by putting them in double occupancy apartments, but the price is often more costly. Research the space that your parents need, and then consider the individual needs versus shared needs that they will have, and then plan for their future health changes. The process of arranging care for couples is often more difficult than planning for a single resident, but it is worth the legwork to keep your parents from being separated.
Assisted Living In Peoria by Desert Winds Retirement
Desert Winds Retirement Community is an assisted living facility located in Peoria, Arizona. To schedule a tour of our assisted living facility, SLS Communities or for more information please call us today at 623-294-5590.