Questions For Assisted Living Interviews
If you are searching for "questions for assisted living interviews", you've come to the right place! This is a list of the 15 most important questions needed to determine which assisted living community best suits your needs.
Questions To Ask About Assisted Living Facility
You or your loved one(s) needs to feel comfortable in their assisted living facility or community. The community is where residents can meet new friends, enjoy excursions and a variety of activities.
Consider asking these questions when at the facility:
How are the activities chosen for the residents?
What are the usual activities?
How many residents generally participate in the activities?
What are the menu options for daily meals?
What is the social experience in the community like?
Where do residents spend the majority of their time?
Questions To Ask About Care
Care should be the number one thing each resident has on their mind. Do not settle for an assisted living facility. Make sure the facility can cater to all your specific health-related needs.
Ask the staff these questions:
What care services are included?
How many staff members are on site compared to the number of residents?
If comprehensive care options are needed, how can my loved one transition?
How do your competitor's care services differ from yours?
Are services available a la carte?
Questions To Ask About Costs
Knowing what the costs are and what is included in monthly agreements is crucial.
Make sure to ask these questions regarding costs and administration:
What is included in the monthly fee(s)?
What circumstances might warrant an increase in costs?
What are the emergency handling procedures in place?
Where does the funding come from for the community?
Here are the average costs of assisted living in Arizona:
Per Day Cost: $127
Per Month Cost: $3,863
Per Year Cost: $46,350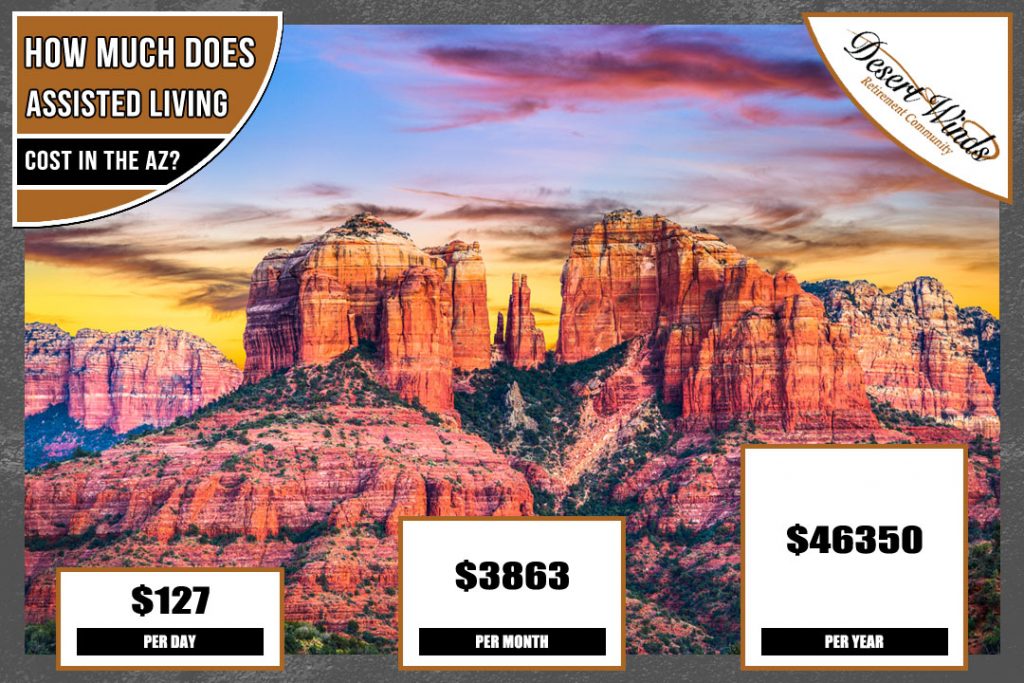 What Is Assisted Living?
Simply put, assisted living facilities are perfect for senior citizens with few medical issues. Of course, problems can arise in the future, but for the time being assisted living may be the best choice for the healthy senior citizens. Dementia and Alzheimer's disease can be unfortunate and inevitable parts of life.
Assisted living arrangements will provide activities and care to help stave off or limit the effects of Alzheimer's and dementia. Most facilities will assist in basic daily functions, with senior citizens suffering from dementia generally offered extra help performing these tasks.
Assisted living arrangements can vary based on whatever the prospective resident desires. Most will offer private and/or studio apartments, with 24-hour staff available for any assistance or guidance. This is the perfect living style for those who are mostly independent but will require help with some activities.
Assisted Living Tour Checklist
Below is an assisted living tour checklist to help you in knowing what to look for when taking a tour of the facility.
Pay close attention to the level of cleanliness.
Watch a community activity or event.
Do their staff members appear friendly and approachable?
Check out the outdoor area or courtyard, is it well kept and maintained?
Ask their security and staff questions, how do they respond?
Eat a meal with the residents, does it seem okay?
Speak with some residents. Do they like the facility?
Ask some questions about personal care.
Ask more about the move-in and move-out criteria.
Follow your gut.
More Assisted Living Interview Questions:
Memory Care At Desert Winds Retirement In Peoria, Arizona 
If you are searching for a memory care facility in Peoria, Arizona, Desert Winds Retirement Community is the facility for you! Travel over to our memory care page to see pictures find out more about our facility, amenities, floor plans and more.
More Articles About Senior Living