Independent Living Checklist: What To Ask & What To Look For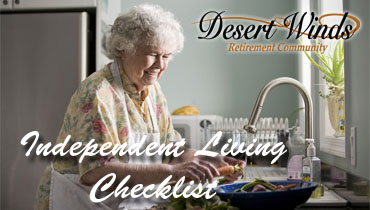 If you are searching for an Independent Living Checklist to help you figure out what to ask and what to look for in an independent living facility this post should help!
Selecting the right independent living community can be pretty stressful, so how will you know in advance which community will be right for you or your loved one? What may be good for your friends could be too stuffy for your or even too lively and vice versa. If you begin to ask plenty of questions and spend some time visiting the communities, then you will understand and know what will feel right for you. To start, a checklist is below of what you need to research; ask over the phone, and what you should be looking for whenever you visit.
Independent Living Checklist
Narrow your search down by region and community:

Is the community in a town or community that you will enjoy and have heard great things about?
Is it convenient for family and friends to come and visit?
Is it a national/regional chain or a locally operated community?
How far is the nearest airport and does it have reasonable priced flights?
Is it a gated or open community?
If it is a chain community, is it a respected name that you can trust?
What are the options for housing and how will they fit your needs?
Is it a continuing care community? Are there various care levels such as assisted living if it is needed?
Does the community have a meal plan and is that plan flexible? If so, what are the facilities for dining like?
Is the community close to medical centers, shopping, restaurants, and other services?
Is it in a safe region that has a low crime rate? You can check for crime records and safety records on sites like Neighborhood Scout, Trulia and Crime Reports.
Check their Reviews. What reviews and comments are from Caring.com, BBB, and Area Agency on Aging?
Ask whenever you call:

Is the community accepting new residents?

If it is not, is there a waiting list? How long is the average wait time? Be aware that many will join a waiting list for several communities, so the wait time may be shorter than expected.

What payment types are accepted?
Is there a transitional service program?
What services are included in the price of the community?
Are there any services that are available for additional fees?
Ask whenever you visit:
About the community:
How many rooms are available where you can visit with friends, family and other residents?
How extensive are the outdoor areas for recreation, exercise, and visiting?
Are the grounds as well as the buildings well maintained, clean, and spacious?
Are all of the common areas appealing as well as pleasant?
Is there covered parking? Is the parking free or is there an additional charge?
Is the community easily accessible to public transportation?
Is the neighborhood in a quiet and pleasant area?
About Living Arrangements:
Are there various housing options such as smaller or studio apartments if you want to downsize?
If needed at some point, are there any handicap equipped apartments?
How are the views? Do the windows face a garden, courtyard or green area?
Were you invited to look at the various units that are available?
Are there homeowner's association membership fees?
Are there homeowner's rules about upkeep and decorating?
Are you able to have visitors at any time or overnight? Is there a curfew and rules for visitors?
Are you required to carry renter's insurance?
Are housekeeping services available? If so what would it cost?
What maintenance issues will you be responsible for, and what ones are included in your apartment?
About Cooking:
Are visiting friends and family allowed to join you for your meals?
Do the residents like the food?
About Activities and Social Life:
Is there community or private dining rooms available for large or family events?
Are there barber shops or beauty salons nearby or in the community?
Is there a gym or fitness center?
If you enjoy sports such as swimming, tennis or golf, are they offered?
Is there a community center and how large and equipped is it?
Are there religious services available in the community or nearby?
Are there evening events such as dances, music group performances or movie nights?
What types of recreational facilities are offered in the community?
Are there media and computer rooms available?
Are there extensive but varied activity and class schedules, including ones that interest you?
About the Staff:
What is the turnover rate for staff?
Does the community work with an agency that provides in home care if you need assistance?
Is there an activity director or staff that is in charge of organizing and leading activities?
Are background checks done before staff is hired? If so, how and when?
How much training does a staff member have?
About Medical Care:
Does the community work with an agency that provides medical assitance and nursing if needed?
Is there a LVN, CAN, or RN on staff?
Is there a clinic or medical unit in the community?
If, so what services are available from doctors, physical therapists, nurses, etc.?
Is the community affliated with a nursing home or hospital if more care is needed?
Forms to Ask for:

Copies of the lease, contracts, etc.
Recent menu from the week of meals and snacks.
Recent list of weekly activities and events.
Copy of resident bill of rights.
Copy of the most recent survey results from the state inspectors.
Take your time and write the answers to the questions as you go through them and keep a checklist for every community that you happen to visit. If you had a scheduled visit, it is best to just drop in to see if the experience was just as nice. It will be bad sign, if you aren't allowed to have an unscheduled visit. Once you have narrowed the choices down to a few communities, you should schedule various in depth visits and dig a lot deeper into the various parts of the community.
Independent Living At Desert Winds Retirement In Peoria, Arizona 
If you are searching for an independent living facility in Peoria, Arizona, Desert Winds Retirement Community is the facility for you! Travel over to our independent living page to see pictures find out more about our facility, amenities, floor plans and more.