Memory Care Checklist: What To Ask & What To Look For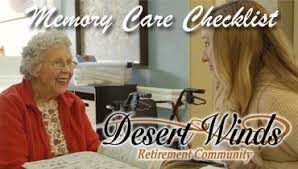 If you are searching for a Memory Care Checklist to help you figure out what to ask and what to look for in a memory care facility, this post should help!
When the time comes to place your love one is a memory care facility, you want to ensure you are choosing the best one for them. This requires a certain set of questions to be asked.
We put together a very detailed memory care checklist for you to know the right questions to ask and what to look for. Download the Memory Care Checklist so you can print it out and take it with you.
Below are common questions to ask, ensuring you make the right decision.
Questions For Yourself
Is your loved one known to be aggressive or have behavior problems?

Are they able to move around independently?

Do they ever wander around on their own?

Will they require help with eating?

Are they diabetic? Are they going to need assistance with medications?

Will they need assistance with incontinence?

Is supervision needed around the clock?

Will ongoing medical treatments be required?
Questions for Community (Staff & Safety)
What training does the staff go through?

How many hours of training?

How secure is the buildings, grounds and overall community?

How many staff members are present during the day and night shifts?

What are the resident to staff ratios for each shift?

Is there an individual care plan for residents?

Is there a nurse present around the clock? If not, what is the nurse's shift hours?

Are residents visited by a physician?

Are you able to provide care for those with mobility issues?

What types of medical services are available?

Are residents able to arrange outside care?

Do you have experience caring for disruptive or physically aggressive residents?
Community Policy Questions
What types of care services are not available?

How are residents transitioned between memory care and skilled nursing?

Are residents given an assessment prior to admission?

What are the policies towards medical emergencies?

What is the discharge policy?

Are family members frequently updated about the resident's care?

What is the fee structure, are caring and housing billed together or separately?
Memory Care Treatment and Features
What living arrangements are there?

Will walkways be available for residents?

Is there a dining program?

How are residents grouped together, by cognitive level?

Are there therapy activities available, such as music therapy, pet therapy, or reminiscence therapy?

Can they provide care for residents with Parkinson's?

Can they provide care for resident with Vascular dementia?

Are light treatments available?

Are they able to provide assisted living for Alzheimer's care bridge programs for patient in early stages?
Going With Your Gut
Does your philosophy correlate with theirs?

Is there outside access to residents?

Will your loved one find the community easy to navigate?

Did the staff seem experienced and friendly?
MEMORY CARE AT DESERT WINDS RETIREMENT IN PEORIA, ARIZONA
If you are searching for a memory care facilities in Peoria, Desert Winds Retirement is the facility for you! Travel over to our memory care page to see pictures, find out more about our facility, amenities, floor plans and more.