Enjoyable Activities for Seniors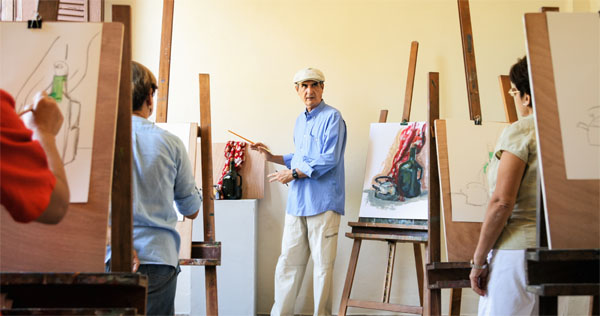 If you're searching for enjoyable activities for seniors, this post should help!
1. Spend Time Reading
Reading is a great activity for today's seniors. It's a nice way to pass the time and keep their brains engaged. It may also improve cognitive memory, reduce their stress, improve their sleep, and can help postpone cognitive decline. Even if your senior likes reading a physical book, paper magazines, using an e-reader or tablet, or listening to audiobooks, they can engross themselves in a good story, look at pictures, and can learn about interesting new issues.
2. Explore Various Hobbies
Hobbies are excellent for those seniors that have limited mobility. Activities that don't need a lot of moving around includes cooking and baking, birdwatching, knitting, indoor gardening, playing or learning a musical instrument, or possibly learning new a language. This is also a great time to learn new things – there could be hobbies or interests that they have never had a chance to try before. Learning is also an excellent way to keep their mind active and can prevent them from being bored.
3. Regular Exercising
Even if your senior isn't that mobile, there are still exercises they can try to help get their bodies moving. It doesn't matter if they are sitting or are standing, they can still acquire the health and mood benefits they need, sometimes from types of chair exercises or chair yoga programs. There are also exercise programs that can be done utilizing a walker to keep them stable or just focused on their feet and ankles to help reduce swelling.
4. Start Getting Creative
Getting in touch with your seniors' creative side is another excellent way for them to pass the spend time. Sketching and drawing, using colored pencils, painting, and sculpture are all great ways to get creative. Fun projects can include scrapbooking, organizing a family photo album, or starting a family recipe book. As an added bonus, being creative can also come with health benefits. Research has shown that creative activities can help those who are battling chronic illness to reduce negative feelings and increase the positive ones, reducing stress and anxiety, and strengthen medical outcomes.
5. Get Outside
Going outdoors to spend some time with nature is relaxing and an excellent mood booster. Even if having limited mobility means that your senior can only go to the porch or get next to a large window, getting a little fresh air or taking in the scenery is an excellent everyday activity.
6. Get With Happy Visitors
Asking friends or family that have babies or friendly pets to come over for a visit is another great way to engage with your senior. A lot of people perk up when in the presence of young children. And interacting with pets is another great way to bring cheer to them and reduce their stress.
7. Play Some Games!
Games and puzzles are a great source of fun times. There are so many games and puzzles to choose from and a lot of them can be played with other seniors, with visitors, one-on-one for face to face time together, and even by themselves.
8. Watch Some Movies, TV Shows, Or Listen To Music
If your senior is watching TV all day, each day it can't be healthy for them. But a movie or a TV show can be an enjoyable experience every so often. Watching TV could even interconnect with a hobby. As an example, your senior may be interested in watching a documentary on a hobby they're trying to learn. Or perhaps, channels like a cooking channel or a travel channel may inspire new recipes to try out or world destinations to learn about. Listening to music another enjoyable activity. Music can reduce stress, lower anxiety, and sometimes alleviate pain. It can also enhance immune function and sleep and can also help with memory.
9. Participate In Charities
Even if your senior isn't that mobile or has to stay home, they can still give back to their community. Speak with local charities, hospitals, or religious centers and find out if they have any projects that your senior could participate in. This may mean creating blankets or gloves, creating no-sew blankets, or putting together care packages.
Find more activities for seniors at SLS Communities!
Assisted Living, Independent Living & Memory Care In Peoria, Arizona
Independent Living: Searching For Independent Living In Peoria or Independent Living In Phoenix? Desert Winds can help! We offer the highest standard of independent living services in the Phoenix Metropolitan Area.
Assisted Living: Searching For Assisted Living In Peoria or Assisted Living In Sun City West? Desert Winds can help! We offer the highest standard of assisted living services in the Phoenix Metropolitan Area.
Memory Care: Searching For Memory Care In Peoria, Arizona? Desert Winds can help! We offer the highest standard of memory care services in the Phoenix Metropolitan Area.
If you would like to schedule a tour please give us a call at 623-400-1468.