Independent Living Vs Assisted Living
If you are searching for "independent living vs assisted living", Desert Winds Retirement Community is here to be your guide.
This article will cover the follow topics regarding the two retirement living options:
What Is Independent Living?
Independent living is plainly a housing arrangement for seniors who are the age of 55 or older. Housing for seniors will vary in types such as free standing homes, retirement communities, and apartment living. Senior housing will have a friendly atmosphere, more compact, and they are designed to let seniors get around more easily and all landscape and/or maintenance is done for them.
Typically, communities for independent living will offer its residents numerous activities and programs, other services as well as amenities. Independent living housing often has a recreational center and/or clubhouse that will allow seniors to interact with other seniors. Independent living may also have community participation in movie nights, arts and crafts, holiday gatherings, and other types of activities.
The community may also have facilities like fitness centers, swimming pools, golf courses, a variety of clubs and groups. There are other services such as on-site spas, daily meals, housekeeping, laundry services and barber or beauty shops.
Typical Independent Living Features:
One to three meals per day
Activity schedule
Scheduled transportation
Free laundry
Housekeeping
Common areas
What Is Assisted Living?
An assisted living facility is one in which its residents largely lead their lives independently. They do get a little assistance for needs that differ from person to person, possibly with mobility, meal planning, transportation, hygiene or medication. You might be ready for assisted living if it is becoming hard or dangerous for you to go up and down the stairs at home or if driving is starting to get risky.
Assisted living can be in a residential-type neighborhood or large building. Some facilities allow pets and can also consist of laundry as part of the rent or for an extra fee. 
Typical Assisted Living Features:
24-hour care
Monitoring of medication
Three meals pre day
Housekeeping/laundry service
Personal care
Social activities
Cost Of Independent Living And Assisted Living
According to Elmcroft, the average independent living cost per month is $3,750, with a range of $1,500-$6,000. 
Assisted living, meanwhile, will cost an average of $3,863 per month. Prices across Arizona will range from $127 per day to $46,350 per year, according to WhereYouLiveMatters.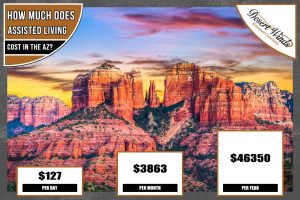 Assisted Living Benefits
Here is a list of benefits associated with assisted living communities: 
Your Loved Ones Protection
Members of the family no longer have to be concerned about their loved one getting manipulated, falling down, wandering off, not eating a healthy enough or taking the improper medication. The living facility will take every measure possible to ensure your loved ones are continuously protected and safe.
Increased Activity For Your Loved One
It's very essential that we stay active as we get older. Your loved ones are offered an assortment of outdoor activities as well as indoor activities from arts & crafts, to movie night, or even fancy dinner parties. Some assisted living communities will offer their residents modes of transportation, so they can go on expeditions, like the market or go to doctors appointments.
Assistance In Day-to-Day Duties
It's very important for seniors to have their independence, but still have the assistance they need. Assisted living communities provide their residents with help, only when needed, with daily living undertakings, such as dressing, preparing meals and eating or laundry duties.
Independent Living Benefits
Here is a brief list of advantages of independent living communities:
Social Interaction
Human interaction and a variety of activities are not two things you have to give up when moving to an independent living community. In fact, most communities will boost your chances for socialization. Facilities offer a wide array of daily activities, destined to spark your interest. Whether it is a yoga class, exercise routine or even a musical act, all residents will find something enjoyable to do throughout the day. You may be living independently, but it certainly will feel like a community setting.
Safety
What's better than a combination of freedom and safety when you reach a certain age? Inside your home, you can do whatever you'd like and that also applies to the remainder of the facility. Most independent communities have many safety features installed, such as security cameras, gates and access control systems. It is the goal of every independent community to make sure residents are happy, healthy and safe at all times.
Maintenance-Free Lifestyle
One thing senior citizens/retirees could do without is constant maintenance concerns. It's one of the main reasons many people leave their homes for an independent living community. You will no longer have to worry about how high the grass is growing or trimming the bushes. In-home maintenance concerns are now a thing of the past, as well. Let the facilities' staff take care of any pesky checks or repairs. Most independent communities will feature 24/7 maintenance staffs. Say goodbye to those costly maintenance bills forever!

Memory Care At Desert Winds Retirement In Peoria, Arizona 
If you are searching for a memory care facility in Peoria, Arizona, Desert Winds Retirement Community is the facility for you! Travel over to our memory care page to see pictures find out more about our facility, amenities, floor plans and more.
More Articles About Senior Living