Knowing when a transition from assisted living to memory care is needed can be tough to determine. Look for these few signs to help assist your loved one's needs at an advanced age.
When To Move Into Memory Care
If you or a loved one identifies these signs, it may be time to consider a permanent move into a memory care arrangement. Here are a few signs that memory care should be the next step:
Constantly Worrying About Safety
Neglecting Personal Care
Loved One Feels Isolated And Lonely
Changing Physical Needs
Constantly Worrying About Safety
This, unfortunately, is a common fear for many families. Whenever you truly fear for your loved one's safety on a daily basis, memory care must be considered. Within an assisted living facility, your loved ones spend a lot more time by themselves. Staffs at assisted living facilities will certainly be attentive, but memory care facilities offer constant care and checkups to make sure each resident is safe.
Neglecting Personal Care
As a resident ages, they may tend to neglect many things they are normally on top of. One of these aspects can be personal care. When hygiene becomes an issue, it may be a sign of dementia. Any resident living with dementia deserves round-the-clock care. Try to monitor any changes in body odor, hair styling or unwashed/wrinkled clothing.
Loved One Feels Isolated And Lonely
Unfortunately, it can be very easy for anyone suffering from dementia to fall into isolation. Feelings of loneliness will also increase the risk of depression. Memory care communities have set up active and engaging programs to help stimulate the mind and decrease loneliness. Most communities will set up activities specifically for those dealing with dementia or Alzheimer's.
Changing Physical Needs
Physical changes can happen, sometimes drastically. Mobility problems are common, but other changes like weight loss and altered postures can be cause for concern. This may mean your loved one is forgetting to eat or neglecting it on purpose. Memory care facilities will make sure all residents are getting the nourishment they need.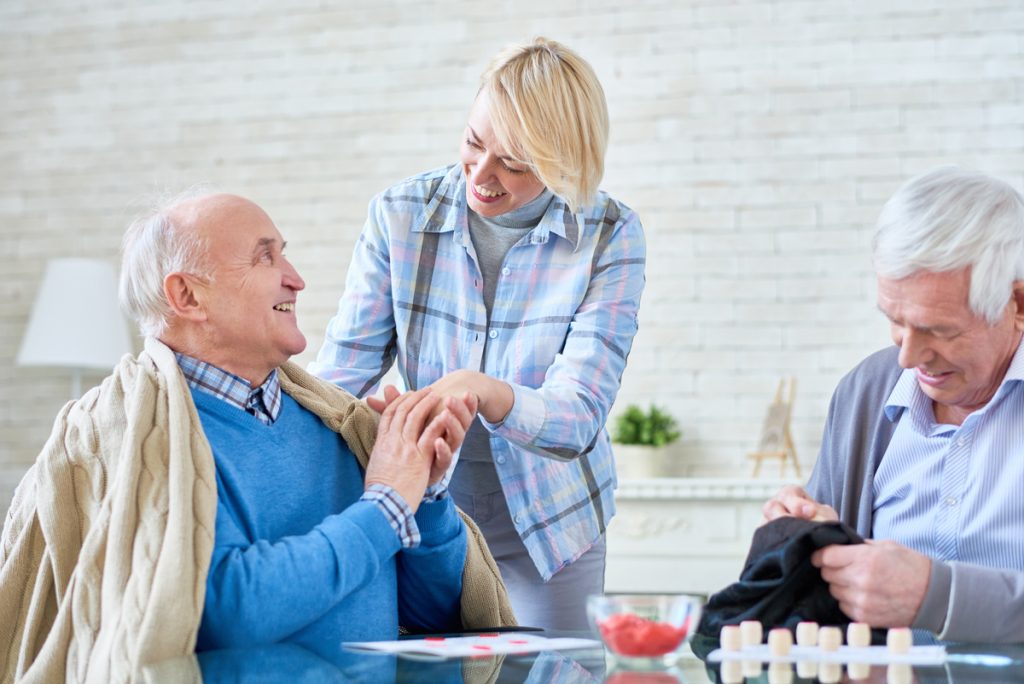 What Is Assisted Living?
Simply put, assisted living facilities are perfect for senior citizens with few medical issues. Of course, problems can arise in the future, but for the time being assisted living may be the best choice for the healthy senior citizens. Dementia and Alzheimer's disease can be unfortunate and inevitable parts of life.
Assisted living arrangements will provide activities and care to help stave off or limit the effects of Alzheimer's and dementia. Most facilities will assist in basic daily functions, with senior citizens suffering from dementia generally offered extra help performing these tasks.
Assisted living arrangements can vary based on whatever the prospective resident desires. Most will offer private and/or studio apartments, with 24-hour staff available for any assistance or guidance. This is the perfect living style for those who are mostly independent but will require help with some activities.
What Is Memory Care?
Memory care units are available specifically for residents in need of more supervision and assistance. Memory care, often referred to as Alzheimer's care units or special care units, are ideal for senior citizens with mental or physical issues. Memory care units can either exist within an assisted living facility or act as a stand-alone, in some cases.
Just like assisted living arrangements, 24-hour staff will occupy the memory care units. Think of memory care units as the same as assisted living communities, just equipped with more care and medical supervision.
Much like assisted living offerings, a plethora of activities will be offered in memory care housing. These activities and games are utilized for mental stimulation. Slowing any signs of dementia is crucial when playing cards or listening to a musical act in these units. The chance to socialize in a group gathering is just another benefit for residents.
Differences Between Memory Care And Assisted Living
While the two living situations may seem very similar on paper, it's vital to understand just how the two communities differ. For example, memory care will definitely value safety more. An emphasis is put on safety while also respecting individual lifestyles.
Memory care facilities are highly trained to deal with dementia. Dementia makes even the most routine of tasks very difficult, and memory care staffs are there to assist to every need.
Specialized activities will draw many to memory care units. Activities will be designed to stimulate the mind and help those wishing for social interaction at the same time.
Memory Care At Desert Winds Retirement In Peoria, Arizona
If you are searching for a memory care facility in Peoria, Arizona, Desert Winds Retirement Community is the facility for you! Travel over to our memory care page to see pictures find out more about our facility, amenities, floor plans and more.
More Articles About Senior Living