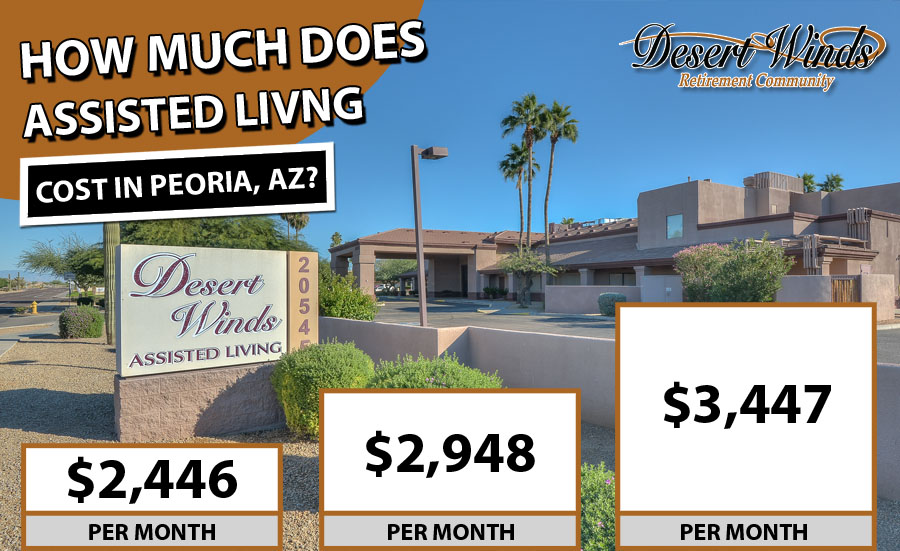 On average, assisted living costs about $2,948 in Peoria, AZ with average prices ranging from $2,446 to $3,447 according to SeniorLivingServices.
According to PayingForSeniorCare, "Assisted living in the Peoria area costs an average of $3,850 a month, which is slightly higher than the state average."
Caring.com says, "With an average cost of $2,981 in Peoria, it's often difficult to find assisted living communities that provide high-quality care at an affordable price."
According to ChaparralWinds, "The average cost of assisted living in Peoria is $3,297 per month. Average prices range from $960 to $6,700 per month in Arizona"
Learn more about assisted living cost in Peoria.
Learn more about Assisted Living Costs In Arizona
Assisted Living vs Nursing Home Cost in Peoria, AZ
Assisted living facilities cost around $2,500 to $6,700 per month vs nursing homes which cost around $6,800 to $7,700 per month. Medicare and Medicaid typically do no cover the cost of an assisted living facility. However, Medicare and Medicaid will cover the cost of nursing if the patient meets the requirements.
Cost of Living in Peoria AZ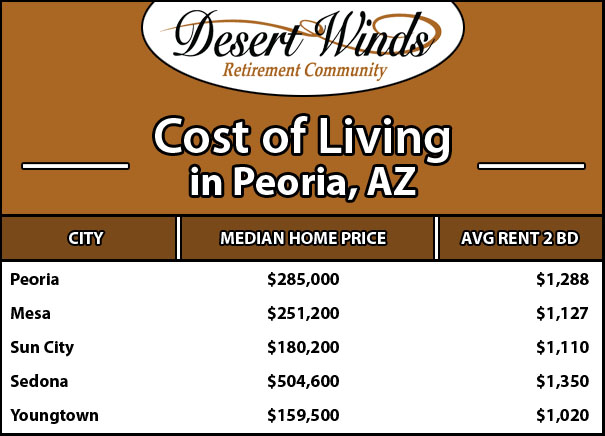 The cost of living in Peoria, AZ is 110.5 based on the US average of 100 with the median housing price around $285,000 according to BestPlaces. An amount above 100 means Peoria is more expensive than the US average. A studio costs about $893 per month. A 1 bedroom costs about $1,043 per month. A 2 bedroom costs about $1,288 per month. A 3 bedroom costs about $1,860 per month. A 4 bedroom costs about $2,130 per month.
| | | |
| --- | --- | --- |
| City | Median Home Price | AVG Monthly Rent 2 BD |
| Peoria | $285,000 | $1,288 |
| Mesa | $251,200 | $1,127 |
| Sun City | $180,200 | $1,110 |
| Sedona | $504,600 | $1,350 |
| Youngtown | $159,500 | $1,020 |
Peoria, AZ Assisted Living Communities
Desert Winds Assisted Living 
20545 N Lake Pleasant Rd #2577, Peoria, AZ 85382
Desert Winds Retirement Community in the West Valley offers an abundance of activities, flexible amenity packages, several different lifestyles and many floor plans from which to choose. We are a community you will be proud to call home. Offering solutions for all Independent, Assisted Living & Memory Care Residents.
Learn More About Assisted Living in Peoria AZ